In a country hit hard by the financial and economic crisis, inhabitants of the small town of Ikskile have taken matters in their own hands. A community is engaged in its own sustainable development and kicked off the transition town movement in Latvia.
In a matter of a few years several initiatives based on the sustainable use of local resources appeared and the community has become more active than ever.
Latvia was among the countries hit hardest by the financial crisis. According to government figures, unemployment is at about 11 per cent, and while price levels are close to those in western European countries, a third of those who have a job earn monthly less than 500 euros gross.
In Ikskile, located 28 km south-east of Latvia's capital Riga and home to about 9000 inhabitants, the situation looked better than elsewhere with an unemployment rate of only 3,4 per cent. But people had enough of the way sustainability and well-being were being trampled every day in a country struggling to come back on its feet. In a matter of a few years several initiatives based on the sustainable use of local resources appeared and the community has become more active than ever.
Among those most actively involved are Linards and Kristine Liberts. While Linards shook up Europe's culinary landscape by inventing a line of birch sap beverages, Kristine helped bring a new spirit to the educational sector in Ikskile.
In 2010 he produced his first fermented wine and quickly became the first to produce at a commercial scale in Latvia. Already a year later the interest in his fermentation process was so big that Linards started building a wine cellar that also functions as production site and show room.
By now, Linards has become Latvia's foremost birch juice expert. And since birch sap cannot be produced everywhere, Sula is receiving orders from all across Europe and even Taiwan. What started as a hobby and an experiment has now become a full time job – all year long.
Sharing with the community
In spite of his recent success and the growing demand for his products, Linards remains an active member of the Ikskile community and supports the idea of a sustainable local economy.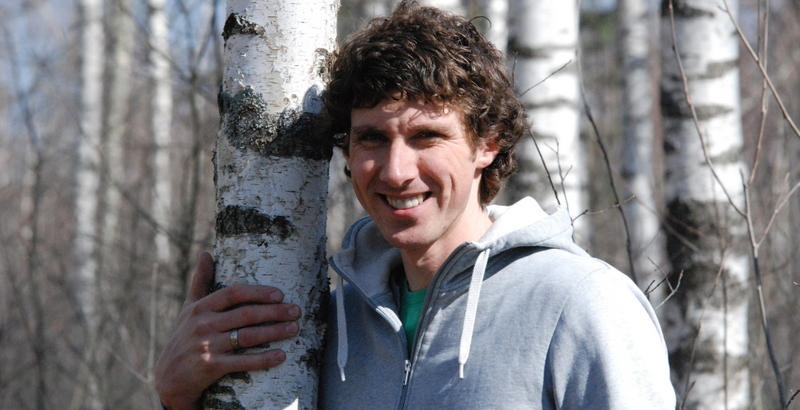 Other than being part of the Ikskile Transition Initiative (see below) and a member of the city council, Linards animates others to try producing their own products by inviting them to use the juicer he owns. Ikskile is rich in gardens with trees of apples, pears and other fruits. Having access to Linards juicer, other community members can give food production a try or just enjoy the juice making process.
Harvesting details
Compared to the traditional harvesting method where a large hole is drilled right into the heart of the tree, Linards takes great care not to cause unnecessary damage to the trees.
"Such large holes only increase the flow by five to seven percent. We prefer to do something more like keyhole surgery. The hole we drill is only seven millimeters wide and not deeper than three to four centimeters."

Linards Liberts
2 – A different kind of school
The school practices a holistic approach that aims both at education and character development and that highly values social, economic and environmental sustainability.
Linards' wife Kristine is equally active for the local community. 5 years ago Kristine and other Ikskile parents whose children were approaching school age were not satisfied with the standard school system. Lack of cooperation and chances for pupils to think independently, large classes and too formal relationships were all far away from what Kristine had experienced during an exchange year in Switzerland.
With little chance to revamp the system, the parents got together to establish the school they wanted for their children.
With only 300 euros but a lot of enthusiasm and support from the community the Ikskile Free School opened in 2010 with 14 students. By 2014, when the fifth year began, 50 pupils from five to ten years old were inscribed. The school has now twelve full-time employees and 20 volunteers and obtained a beautiful old masonry house and the land around it from the municipality.
Obtaining funding for a school
The Ikskile Free School started off with only 300 euros. To obtain financial support Kristine suggests:
Allow the municipality to benefit from your publicity – the school received a lot of attention (media and otherwise) which also made Ikskile more widely known.
Think of activities that could receive EU funding (like an exchange programme for students).
Consider becoming a subsidiary of an existing and accredited school network that shares your values. The state may support you with salaries for teachers already in your first year.
Become a non-governmental organisation to be able to receive tax-free donations.
Don't buy things you can take from your or your friends' homes (chairs, cutlery, paper, anything and everything).
Allow parents to work at the school instead of paying the small school fee – both sides will be happy.
The school is accredited by the Ministry of Education and Science and implements a certified learning programme. Languages play a big role with French classes starting in kindergarten, English in the second and Russian/English in the fifth grade.
Yet beyond that, the school practices a holistic approach that aims both at education and character development and that highly values social, economic and environmental sustainability:
To ensure the most favourable conditions for the children's development the school pays great attention to healthy food, lots of movement and as much practical experience as possible.
Creativity and the virtues of being active are being taught in the many excursions and in craft and art activities from playing on instruments to cooking lessons.
Children learn an environmentally friendly lifestyle through recycling and preparing organic food. A focus on Latvian traditions helps bringing children closer to nature.
And they develop a diverse and multicultural perspective through the many volunteers from across Europe who come to work in the school.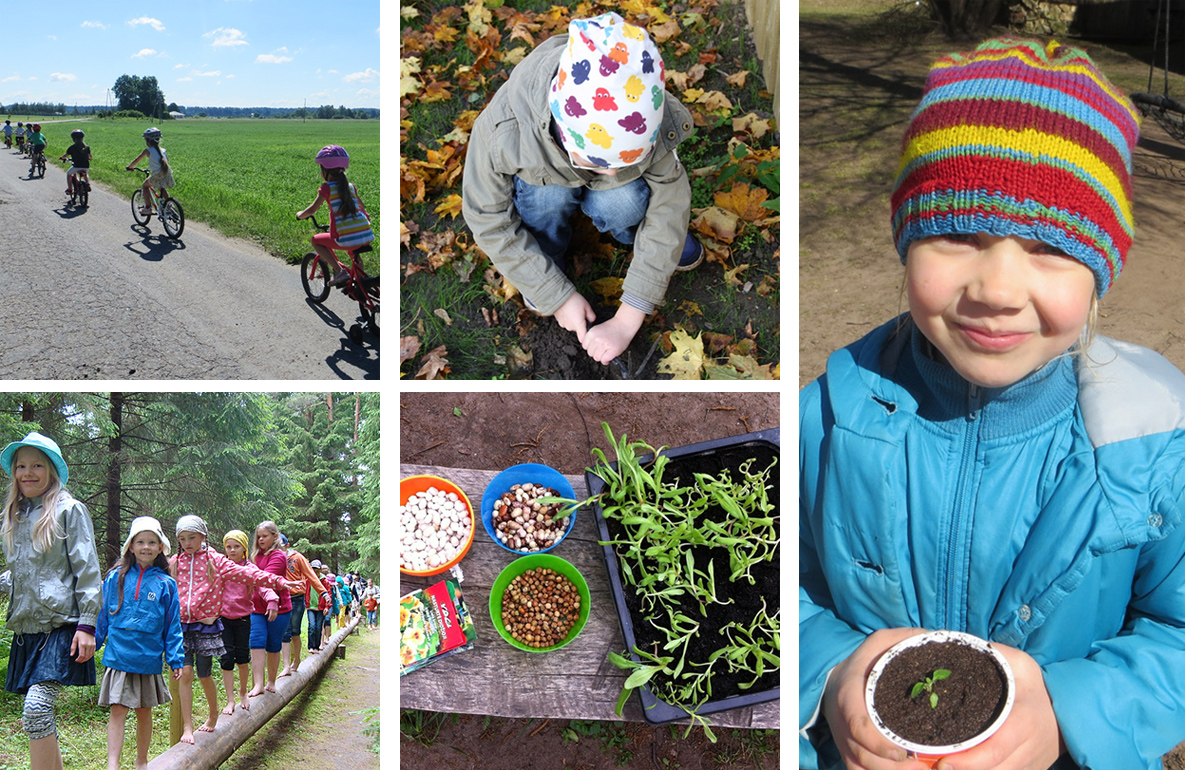 Lifelong learning
At the same time, the active and equal involvement of parents was considered another important aspect. Beyond improving the education and development of children, the school functions as a lifelong learning centre. After students go home, the school offers a range of courses and initiatives – from yoga and home-made cosmetics to permaculture and seed exchange.
By bringing together neighbours who want to be actively involved in the local community the school has become a considerable authority in the local decision-making and in cooperation with their municipality.
Funding opportunities in Latvia
Many funding opportunities are available for local initiatives in Latvia, both from international and national funds and programmes. And also municipalities in Latvia support local economy projects.
Here are the most important examples (click the names to visit their websites):
Teaching others how to teach
Kristine and her colleagues also organise a seminar teaching others how to develop their own school. It is well-known even beyond Latvia's borders and already several schools have now been founded in Latvia and Lithuania.
3 – Coming together, building a community
An important motivation for Kristine and Linards to stick to their ideas and work hard for them has been the exchange with other like-minded people in Ikskile. Part of this was their involvement in the Ikskile Transition Initiative, established in the same year as the school. It was the first of its kind in Latvia (and the Baltic countries). Three more have been created in Latvia since then.
The initiative organised many workshops, meetings and discussions on global challenges like peak oil and climate change. But it were the more small-scale, practical and forward looking solutions like permaculture or traditional housing and the involvement in the school itself that inspired community members to get involved.
"My experience is that people feel less inspired by only discussing complex and seemingly unchangeable problems. Beginning with something practical and optimistic is essential. In our case we wanted to create a better school and that's what we did. Starting from there, we are finding more ways to live more sustainably."

Kristine Liberts
Just like the Liberts family, several other community members have become true movers and shakers.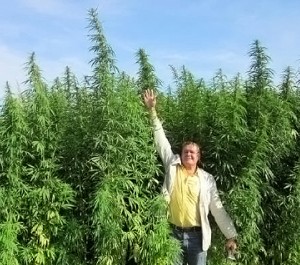 For example Guntis Vilnitis, 56, has brought together hemp farmers and refiners in the Latvian Industrial Hemp Association (LIHA) which promotes the use of natural hemp fibre as a sustainable material for several purposes – building materials, heating pellets, textiles and biofuel – and helps establish and develop the hemp industry in Latvia.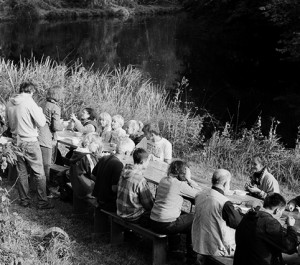 Or the couple Ilze and Normunds Sauleskaln: every year they organise the Song of the river open air festival in the country side of Ikskile. It is a day packed with arts and crafts workshops, educational lectures and concerts that allows locals to reconnect with the nature around them. Whether searching for mushrooms with professional guidance, pottery, or learning basic survival skills, the festival kindles a sense for nature and community in all participants.
With community members like these and similar initiatives now cropping up in other parts of Latvia, Ikskile has become a pioneer community for the local economy movement in the Baltics.