A properly functioning system is always more than the sum of its parts. This principle has always been an inspiration for Rudolf Miklós, a farmer in Mikóháza, Hungary. The energetic young man runs an ambitious initiative that tries to revitalise the rural economy by creating a sustainable, small-scale agricultural sector that serves the local market.
A complex programme for the rural economy that relies on local resources, sharing and cooperation with nature to produce high quality products.
Seeing the harmful impacts that an ever more productive industrial agriculture has on his local community and landscape, he decided to try a more holistic approach, one that respects environmental limits and the need for local livelihoods.
With a model farm that restores a rich and diverse landscape and a development programme that involves locals in small-scale agriculture and the promotion of local products, Rudolf's organisation is creating a system that is truly more than the sum of its parts.
Mikóháza – Resource depletion and an ageing population
The small town of Mikóháza is located in north-east Hungary near the borders of Slovakia and Ukraine – a region with high unemployment. The town has decent infrastructure and the surrounding hills provide recreational sites. But the population of Mikóháza and the neighbouring towns is ageing as young people move away in search for jobs.
Over the years large-scale farms have transformed the region's landscape into a resource that is being depleted. Forests that used to dominate the area make up only 10 per cent of the land by now with intensive farming occupying almost half. The result is erosion and the disappearance of natural water sources.
Partnering with other organisations
Pairing up with a local and a regional NGO allows the project to function more comprehensively: the Polyán Association manages the smaller projects, while bigger ones are handled by E-misszió Egyesület with its capacity and experience in project implementation. Inspi-Ráció backs up the team with more than a decade experience in organisational and community development.

It was this depletion of local resources and the fact that the local economy offered neither sufficient employment nor opportunities for an active community that made Rudolf look for a radically different idea for the local development.
In 2008, Rudolf founded the Polyán Association together with the regional environmental organisation and Inspi-Ráció a local NGO working on community development. Their common goal was to promote a sustainable development that is based on, respects and restores the local natural resources.
In practice
Polyán's concept is a complex development programme for the rural economy that relies on local resources, sharing and a harmonic cooperation with nature and livestock to produce high quality food and other products.
For the environment: landscape management and model farming
Based on research and analysis of the local flora and fauna, the Polyán Association's aim is to partly reconstruct the mosaic landscape that existed here before industrial agriculture covered vast spreads of land with monoculture crops. For example, by revitalising 80 hectares of meadows the association restored the natural habitat of a pair of imperial eagles. The eagles now have their natural prey and stopped hunting locals' lambs.
For a complex natural system to function it needs diversity, says Rudolf. His landscape management therefore is oriented towards the historical, species-rich mix of forests, mountain pasture and meadows that can support small-scale agriculture in all varieties – from livestock to growing fruits – and thus secure the long-term livelihood of locals and their environment.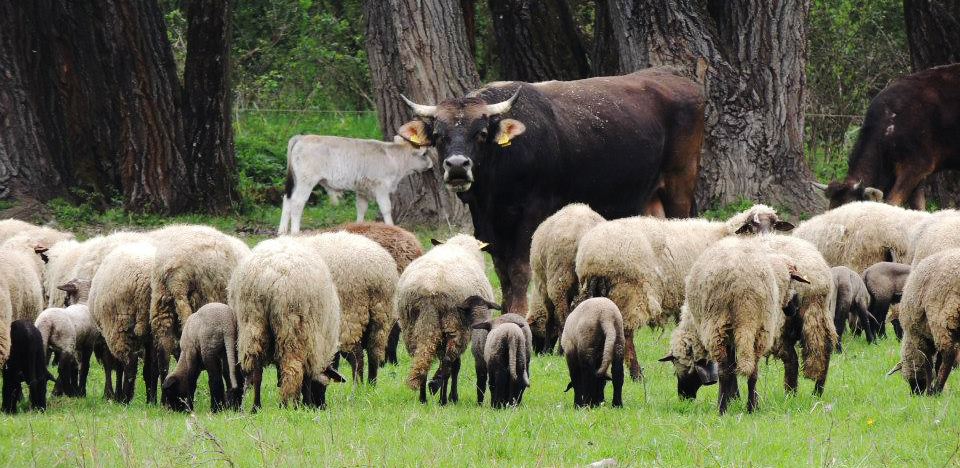 Using traditional farming techniques and keeping small livestock on the surrounding meadows, Rudolf's farm leaves a minimal environmental footprint while producing high quality goods for the local market.
Finding funding
Industrial agriculture provides low quality products for low prices, because it shifts environmental burdens to the society, like the decreasing biodiversity and water levels, health problems, or higher unemployment.
Due to the artificially low prices for agricultural products the farm would not be economically viable without additional funding. Meanwhile the European Union's agricultural subsidy system works against small farms like the Polyán farm with only nine hectares. (The farm can use another 100 hectares owned by other farmers, but subsidies for those lands go to the land owners.)
Project funding, both for the farm and for the wider community-based activities (see below), allowed the Polyán Association to implement their plans:
Preparation of a Sustainable Village Programme (TRUST Fund)
Publishing a yearly calendar for Mikóháza (Norwegian Fund)
Planning and implementing a model landscape management programme and local food production (Hungary-Slovakia Cross-Border Cooperation Programme and Norwegian Fund)
Every local initiative has to accommodate to local needs and possibilities and has to find its own way to succeed. This is the same with financing and profitability. To free themselves from external funding Polyán's solution was the cooperative cattle farming and breeding (see below).

For the people: sustainable local development …
In close cooperation with the municipality of Mikóháza and with the participation of local inhabitants, Rudolf's organisation developed a sustainable development programme for the village. It includes a range of activities that both support local production and promote (and celebrate) local products:
starting manufactures for cheese, honey and milk
regular events around local products
training villagers in producing with local resources
creating quality accommodation for tourists
establishing lands for community use
encouraging family farming
introducing a local currency
building a village oven
The local food festival was organised originally by the Polyán Association. It became so popular, that the municipality took over the organisation so Polyán can focus on other issues.
Not all of these initiatives have been implemented yet, but already many villagers have become actively involved. Rudolf and his team are happy to see new ideas get off the ground and provide advice and know-how where possible and help with writing project proposals.
… and cooperative cattle farming and breeding
Probably Rudolf's most promising and unique achievement, however, is the re-introduction of the Brown Carpathian ("Carpathian Borzderes"), a historical cow breed, and the distribution of the animals to local farmers for free use.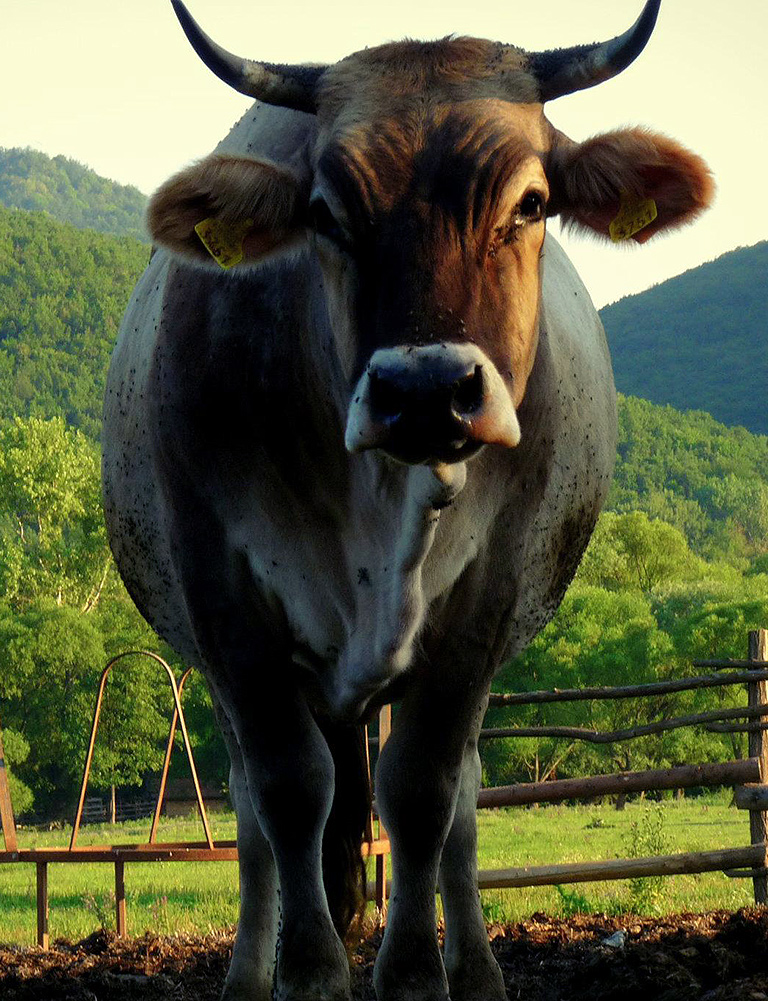 The breed had disappeared from Hungary when intensive farming demanded single-purpose breeds with a higher milk yield.
Since 2009 Rudolf and his team breed the cows and market their products. Their grazing helps restore the natural mosaic landscape and is therefore an integral part of Polyán's landscape management.
In 2014 a programme to borrow the cows to local farmers was launched.
In the programme, a pregnant cow is given into the care of a local family while the Polyán Association remains its owner and receives available farming subsidies that cover the programme's costs.
The Polyán Association offers training for the family which agrees to keep the cow for five years. The family covers the daily costs but keeps the milk yield. Also half of the calves born during this period remain with them.
Through this set-up, Rudolf's organisation strengthens the self-sufficiency of the rural population. Without a large investment that many locals cannot afford, locals have a chance to produce their own milk and cheese and produce a small amount for the local market.
Rudolf also hopes that the programme will bring locals closer together through their shared occupation, the common use of pasture, and the chance to jointly process and market their products.
The art of being different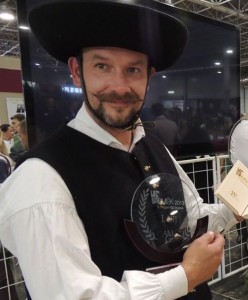 Along with the average age and unemployment, also lethargy is rising among the people in Mikóháza and the neighbouring villages. It was difficult for Rudolf to introduce his radical break with the dominant conception of development, especially because it involves hard work for those who join his efforts.
His positive attitude and patience, however, and the concrete positive impacts his work has, is winning people over piece by piece.
Tips:
If you want to work with people be positive and constructive even when challenging their way of living.
Be aware that change takes time, especially changing attitudes.
Look for activities with cross-cutting and concrete benefits to involve people in your cause.
Work together with the rural administration who know the inhabitants of their villages.
Looking forward
During the first years of his initiative, Rudolf had to learn that building trust and engagement does not happen overnight. But his dedication and positive attitude has allowed him to convince many locals of his ideas, not least Mikóháza's mayor who is trying to revitalise the village.
Polyán's events and products have become a part of Mikóháza's life and more people have started to appreciate the idea of small-scale farming.
Whether the cooperative cow-breeding will be a success still remains to be seen, but Rudolf and his partners have taken the first step to establish an agricultural system that respects the environment and restores local livelihoods.
Find out more
More great pictures are